Wyszukiwarka
Produkt dnia
Smok Kit Pod RPM80 Pro 80W 5ml
190,00 zł
Vandy Vape Mesh V2 RDA 24mm
150,00 zł
Płyn do dezynfekcji 75 % 100ml
24,99 zł
Augvape Intake RTA Atomizer 4.2ml
155,00 zł
38,00 zł
Rebirth RTA 2ml - Hellvape
139,99 zł
Super Manchee FrankiJuice 50/60ml
36,00 zł
Zaloguj się
Voopoo - Drag 2 Refresh Edition 177W
Dostępność:
na wyczerpaniu
towar niedostępny
dodaj do przechowalni
* - Pole wymagane
Opis
UWAGA!!!
ZAMAWIAJĄC PRODUKTY Z KATEGORII : SPRZĘT, ATOMIZERY,GRZAŁKI w myśl ustawy TPD oświadczasz, że jesteś zarejestrowanym przedsiębiorcą, prowadzisz własną firmę lub działalność gospodarczą. Zamówienia te będą weryfikowane przed realizacją. 
PRZY ZAMÓWIENIACH Z KATEGORII : SPRZĘT, ATOMIZERY wymagane jest podanie nr NIP w panelu klienta.
Zamówienia z produktami z tej kategorii bez podanego numeru NIP nie będą realizowane.
 NUMER NIP BĘDZIE WERYFIKOWANY!!!
Voopoo - Drag 2 Refresh Edition 177W
Zestaw zawiera: 
1 x DRAG 2 177W

1 x PNP tank (2/4.5 ml w zależności od wersji )

1 x PnP-VM5 coil

1 x PnP-VM6 coil

1 x USB cable

1 x GENE smart card

1 x user manual

1 x warranty card
Parametry Techniczne: 
Size: 51 x 26.5 x 134.4 mm

VOOPOO Drag 2 Refresh Edition

Material: zinc alloy and resin

Battery: two 18650 batteries (not included)

Output: 5-177W

Output current: 0-40A

Output voltage: 0-7.5 V

Coil range: 0.05 to 5.0 ohm

Temperature range: 200-600 ℉ / 100-315 ℃

Innovative mode: FIT mode

Improved function: Yes

Screen: Oled

PNP Pod tank

Size: 63 * 32mm

Material: stainless steel and PCTG

Capacity: 4.5ml

Coils: PnP-VM5 0.2 ohm / PnP-VM6 0.15 ohm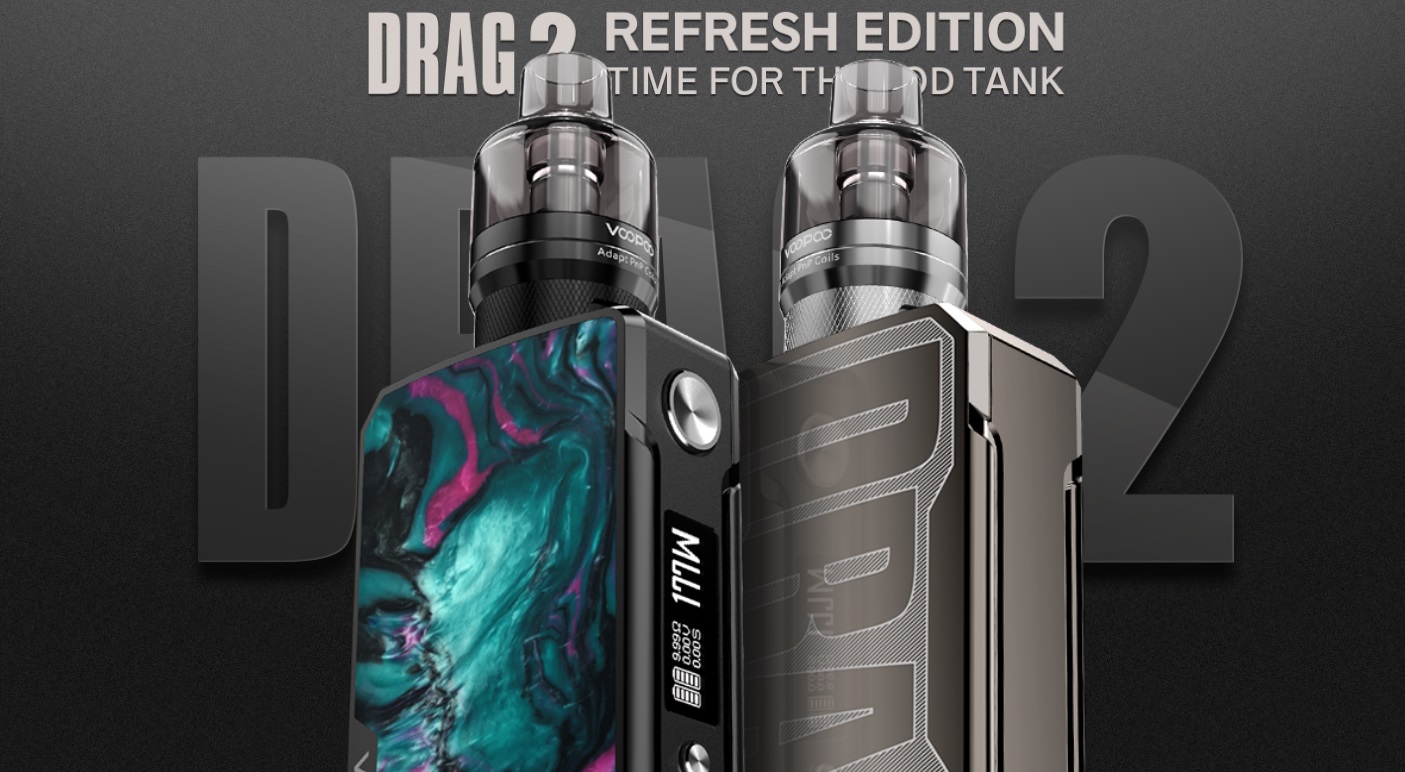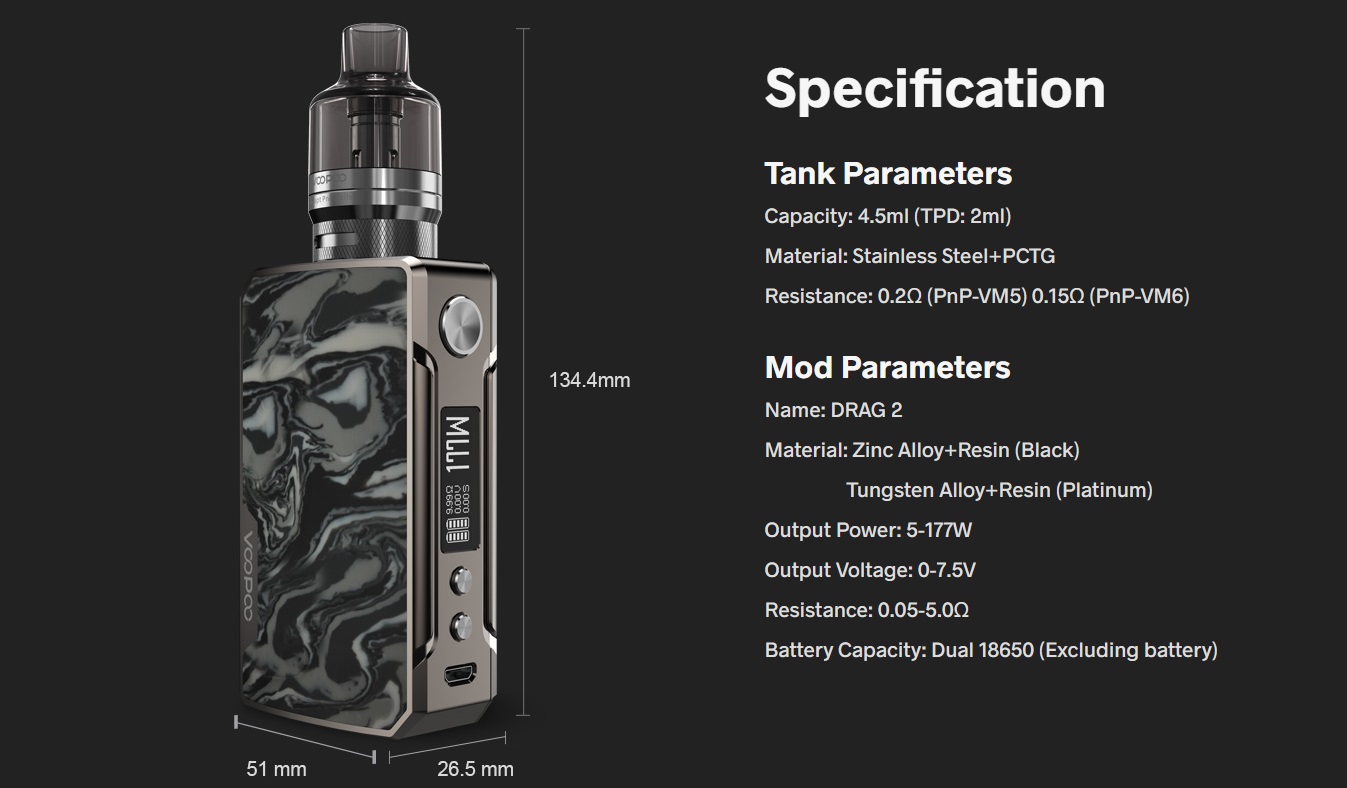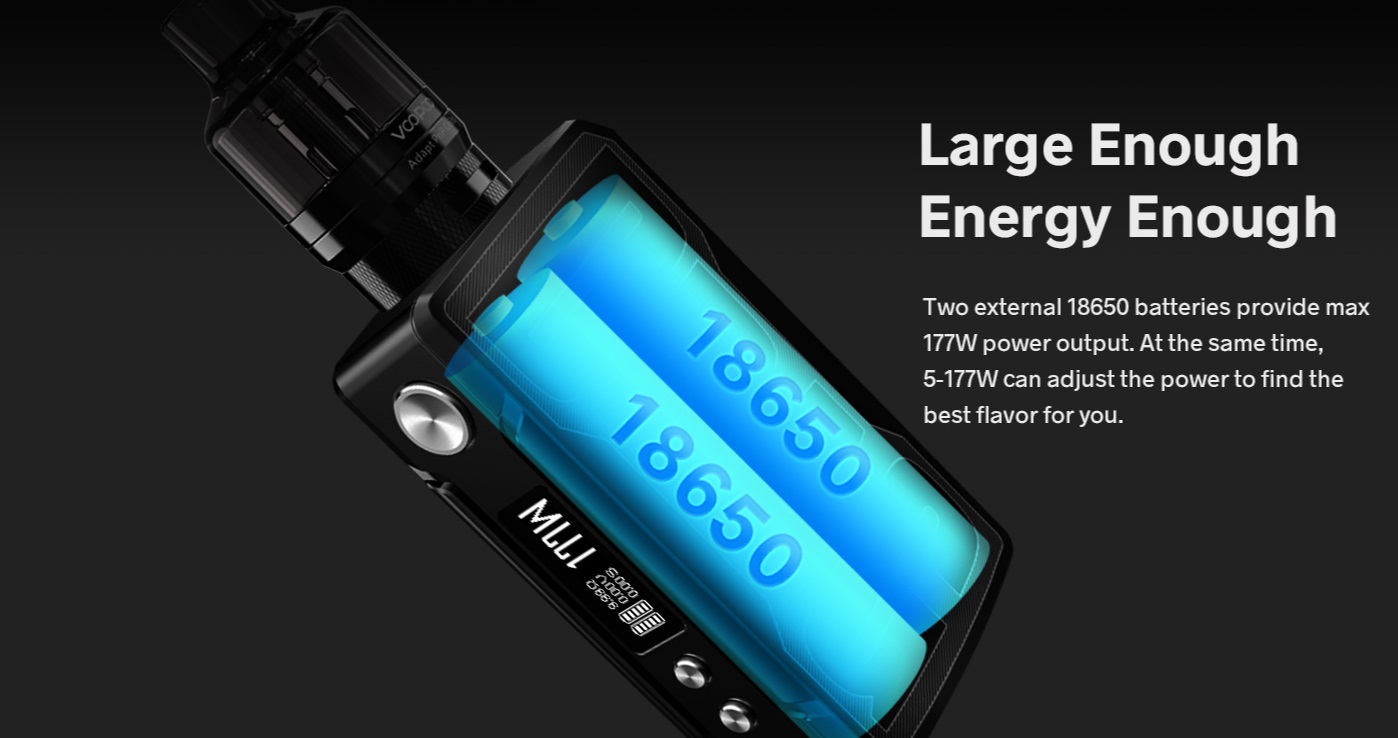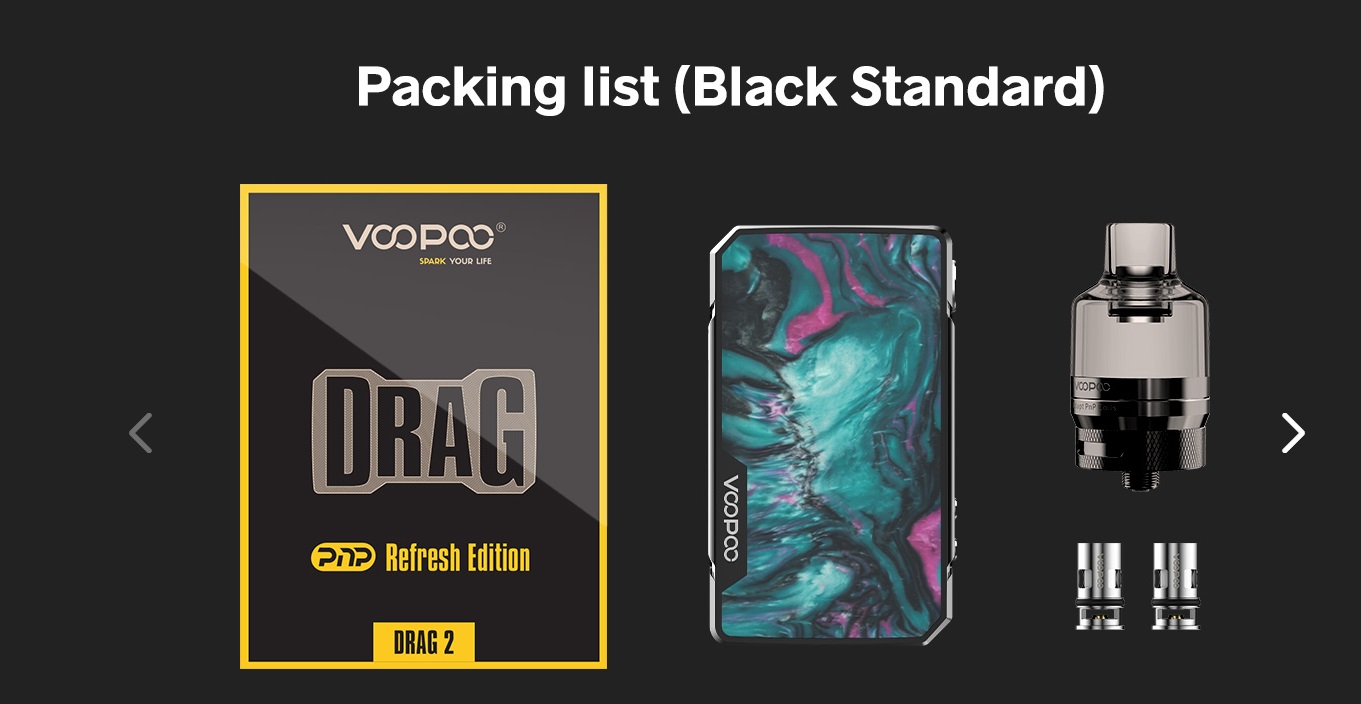 * Odbiór osobisty pod wskazanym adresem.*
* Powyższa oferta skierowana jest tylko do podmiotów prowadzących działalność gospodarczą i ma tylko charakter informacyjny. 
* Firma nie ponosi odpowiedzialności związanych z wykorzystaniem wyrobu wbrew jego przeznaczeniu !!!*